"The deliberate attempt to base building decisions on the best available research evidence, with the goal of improving outcomes and of continuing to monitor the success or failure for subsequent decision-making." – Center for Health Design (CHD)
Evidence-based design (EBD) has seen most of its application in the field of healthcare design where the human behavior studies and evidence of the psychological effects of healthcare environments are used to inform and improve healthcare facility design; subsequently leading to the improvement in patients' wellbeing, reduction of staff stress and infection control. This design approach based on documented results with the end user's emotional, psychological and physical wellbeing in mind not only saves time, avoids and decreases risk, but also improves the design process and creates modern, user-friendly spaces. It is seeing increasing adoptions in the broader design industry, dues to its effectiveness in healthcare facility design, in other sectors such as thematic and museums, exhibition and events, education as well as city planning.
A case study of EBD is presented in AECOM's design of King Hussein Medical City in Amman, Jordan. Here are some of the applications that can serve as inspirations for designers: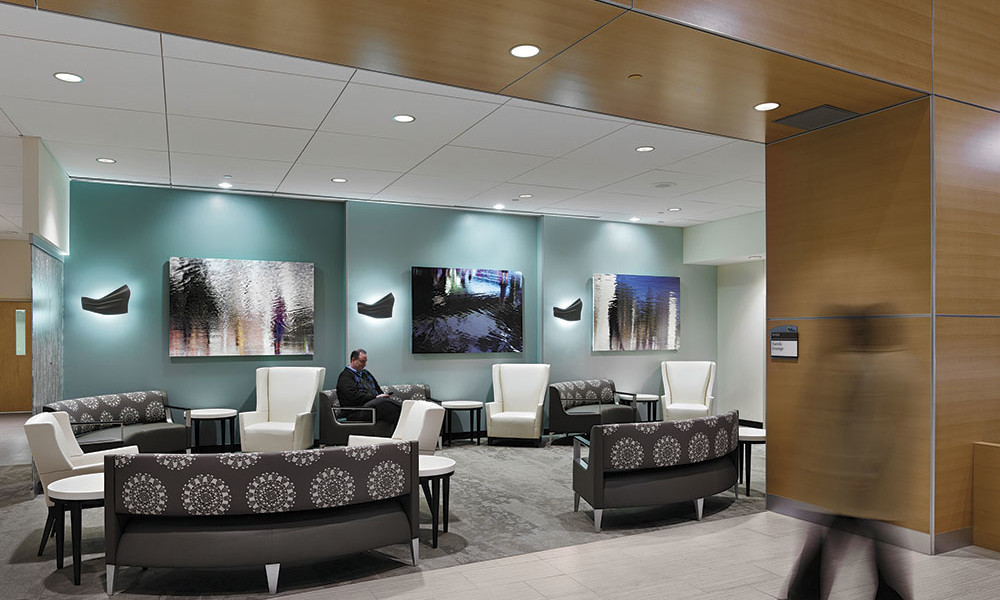 Enhanced way finding: Making use of a range of visual cues for visitors including themes, materials and color, defining departments and zones will help guiding patients and visitor through the hospital without getting lost in between departments, reducing noise and traffic while increasing patient privacy. Integration of technology such as digital signage and electronic management of patient movement though the facility also supports wayfinding and patient flow.
Family-centered design:  Providing waiting areas with quite lounge areas and public areas with plenty of seating both indoors and outdoors next to coffee shop and public cafeteria on different levels help solving the frequently overlooked needs of space for patients' families. In addition, there are public spaces with café seating that allow visitors to have a drink and surf the internet on their laptop; or children areas that furnish with playful child-scale furniture and are acoustically separated from adult spaces but within easy sight of parents.
Greater privacy and calming views: Views of nature can improve patient outcomes; thus, all rooms are single with a view out over the city or a rooftop terrace will also improve privacy, providing patient better restful environment as well as enhancing infection control.
Integrated technology: Improvement through the application of advanced technology such as patient tracking screens to let patients know when they can expect to be seen; families can be contacted by mobile phones when a procedure is done; or video screens provide programmed videos and music to create a calming environment.
Practical, bright materials: Practical, durable and easy to clean finishes are optimal for healthcare space. To improve examination practice, patient rooms are equipped high light levels in combination with color temperature that gives good color rendering of the skin. Interior design of patient room incorporates elements and material that will make patients feel at home, mixing clean, bright materials with natural accents for contrast and depth.